Business
Continuity
Software as a
Service
eCommerce
Hosting
Media Hosting
Web Solutions
Server Clustering
Business Continuity - So Your Data Can't Disappear
If you need your mission-critical data to be always available, no matter what happens, you need our Business Continuity solution.

Business Continuity eliminates single points of failure by ensuring your hosted environment is fully-redundant, from the network level to individual servers. Our experienced team of engineers analyzes your IT environment and constructs a customized Business Continuity solution that best fits your needs. Superb ensures that your data is kept safe with a reliable, fully-redundant, infrastructure regardless of power failures, high demand, etc.
Full Redundancy
Business Continuity starts with our core network and backbone connectivity, which are fully fault-tolerant, even able to withstand major disasters. Ask our experts for a consultation on Mission-Critical Hosting Configurations as well as a Disaster Recovery Plans.
Continuous Data Protection
We offer high-performance backup servers using R1Soft Continuous Data Protection (CDP) technology. CDP's asynchronous replication takes place automatically and may be set to run as often as every 15 minutes. R1Soft CDP Backup Server uses Block-Level Delta Storage, ensuring efficient space usage and allowing you the option to set customized data retention policies.
Server Clustering
We have over 16 years of experience offering high-availability (HA) Server Clustering solutions for your hosted infrastructure. Our Server Clustering solutions offer redundant nodes to allow failover should a single node become unavailable. This means that your service will remain uninterrupted even if one of your servers experiences hardware failure.
REQUEST PROFESSIONAL SERVICE
Upgrade Options
---
Additional R1Soft Agent License
For every server you want backed up on your backup server, a R1Soft Agent License is required.
R1Soft MySQL
The MySQL add-on allows you to perform continuous backups of MySQL tables.
R1Soft Archive
The Archive add-on allows you to archive files in an open standard format like ZIP or TAR which you can store off-site. This is useful when you want to keep backup files longer than the standard retention period.
Sample of Business Continuity Solution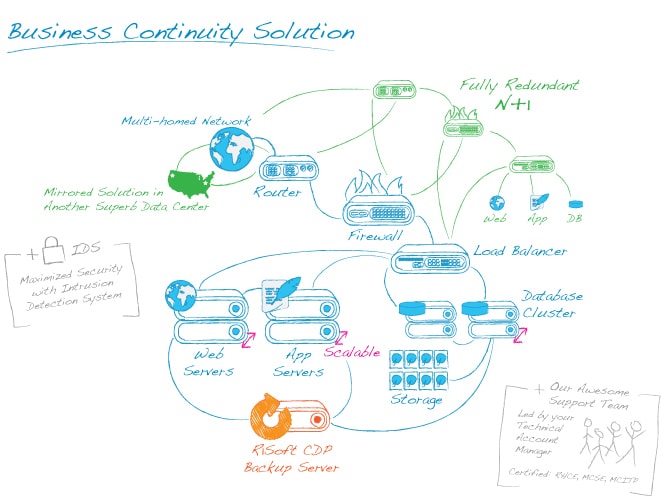 Software as a Service (SaaS)
We provide a scalable and reliable infrastructure for developers who want to host their applications. With a combination of our guaranteed network uptime and managed services to provide the most secure environment, we provide ISVs the infrastructure needed to expedite applications to market.

SaaS is a software deployment model that is the preferred alternative to traditional, on-premise applications. This model allows you to focus on the details of your growing business without worrying about the deployment or management of the necessary software-which results in reduced overhead costs. SaaS requires applications to be available 24/7 without fail.

An important element of hosting SaaS, ISV, and ASP projects is appropriately planning for high-growth by making it easy for businesses to function. Hosting solutions, focused on applications, are designed to enhance your customers' experience, no matter how many users you have.

Having a reliable hosting partner is crucial to the success of your business. With over 16 years of leading-edge experience, we are the hosting partner you can count on to manage your servers and to ensure that all your applications are always available.
REQUEST PROFESSIONAL SERVICE
Sample App Server Configuration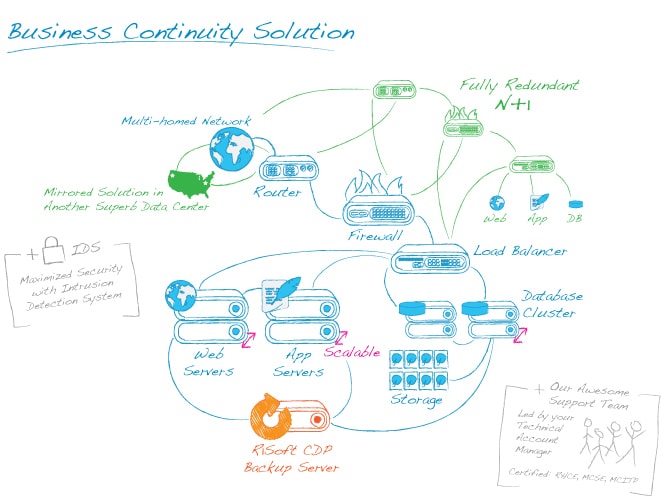 Magento Hosting Solutions
Magento Shared is the open source Magento e-commerce shopping cart system running on our shared servers. This offering is intended for low-traffic sites. For enterprise sites, use our fully optimized version of the Magento open source e-commerce shopping cart system for use with our dedicated server offerings. We've taken the Magento codebase and fully optimized it to conserve resources and run faster on our dedicated servers.
ORDER
Choose your Dedicated Server then select Magento on the order form
Why Optimizing your Server is Important
We tested numerous server configurations and compared the performance of each server in an optimized Magento and unoptimized Magento environment. Based on our data, our optimization more than quadruples the number of requests servers are able to handle (4.7 times more), and improves the response time by 44%.

Compared to competitive eCommerce software platforms, Magento has been criticized as being more resource intensive as the number of product SKUs grow and the number of traffic accessing the site increases. The major benefit of Optimized Magento is increasing your revenue potential of your online store. Optimizing your server will result in a quicker response time and faster access to data to give a better end-user experience. An out-of-the-box installation of Magento is very inefficient, and our tests conducted show our optimization methods will improve the performance of your server significantly.
Why Superb is the #1 Magento Host
We've taken the Magento product to the next level by fully optimizing the configuration. Now, using a number of innovative techniques, we've cut down Magento's shopping cart processor utilization tremendously. So not only do you have the benefits of Magento's award-winning user interface, you also have almost unlimited ability to grow, basically unhindered by the standard "out-of-the-box" configurations, thanks to our optimized implementations of Magento.
Test results of Optimized Magento

Magento is emerging becoming the most widely used eCommerce software platforms for online merchants. This is due to the flexibility of this eCommerce platform to allow customization of your online merchant site as well as being able to control the flow of how products are ordered online.
Memorable Media Quality
No one likes waiting a long time to watch online videos. When it comes to streaming your media content, you want to give your users the best quality experience possible.

At Superb, we can help you deliver your web media content quickly. Our rich-media hosting solutions focus on performance, availability, and delivery.

As demand for quality media content (like high-definition video) increases, providing a rich, fast media experience is more challenging than ever. Customers expect your media to be available all the time. Our staff can help your business apply a cost-effective redundant strategy for your media hosting.
REQUEST PROFESSIONAL SERVICE
Sample Media Solution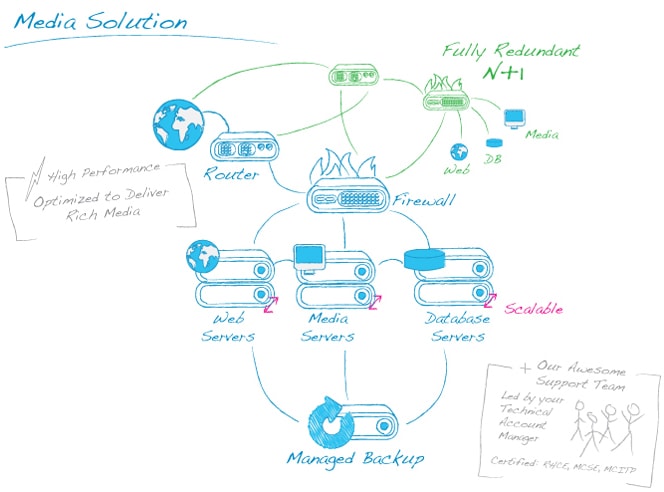 Leading Web Solutions
Regardless of whether you run a blog, a web 2.0 site, or a web application, what you ultimately need from your web hosting partner is 100% uptime.

While you concentrate on growing your site and business, you do not want the hassles and distractions of managing your servers. Our Managed Hosting Web Solutions includes a team of highly experienced IT professionals so you don't have to worry about hardware and infrastructure.

Your Managed Hosting Team starts with designing and deploying a customized hosting solution based on your project needs. We give you the flexibility to choose from the wide range of servers we stock in inventory. From there, your Managed Hosting Team sets up key managed services designed to secure your servers and a backup solution so your data is optimally protected. As your business grows, your dedicated Technical Account Manager is always available to consult with you on your hosting infrastructure, to ensure that your website performs reliably, impressively, and without fail.
REQUEST PROFESSIONAL SERVICE
Sample Web Solution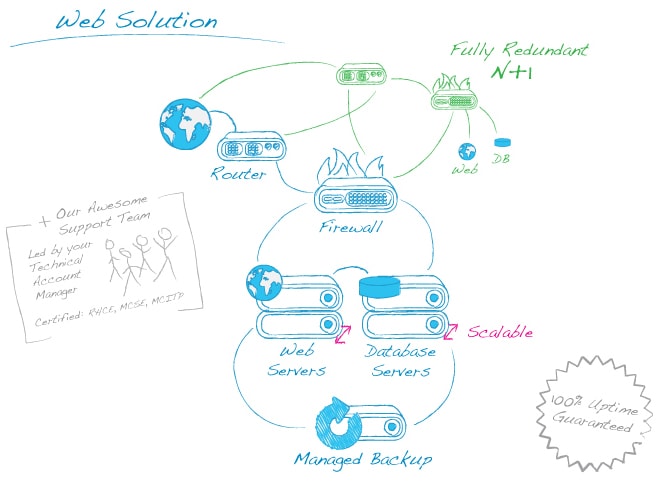 Server Clustering
Scenario 1 »
Scenario 2 »
Scenario 3 »
We work closely with you to ensure that your hosted infrastructure meets and exceeds all your business requirements, for traffic fluctuations, application performance, storage, disaster recovery, and security.