Why Us
About Us
Management
Corporate Responsibility
Our Story
We Keep Our Promises
From the very beginning, we've been building long term goals. We've built our infrastructure to endure and our data centers to be resilient. We have invested heavily in truly superior staff. We intend for our business partnerships, our customers, and our staff to last for the long term. Our
customer success stories
is proof of our commitment.
Whether you're purchasing a share on a single server or a whole rack of clustered servers plus our full range of dedicated hosting options we give you the absolute best. And your prices are fixed, so you can count on stable monthly costs. No multiplying rates, no "bait and switch."
We want to help your business grow and focus on generating loyalty, not simply sales figures. Your needs, your desires, and your expectations are what fuel our efforts. By focusing on you, we constantly improve our range of services and the way we support operations.
After all, without you, there is no us! We know that each and every customer is a valued business partner.
One of our most significant advantages is our expertly trained, highly experienced technicians who are on-site, 24x7x365, at each one of our three data centers. Whenever you call or submit a ticket online, you know that you will get an immediate response from an expert technician where your server is located. We have absolutely no outsourced, third-party technical staff, only experienced in-house support technicians.
That's why we offer our
100% Network Uptime
Industry-leading SLA (one of our many industry milestones), and our 30-Day Money-Back Guarantee. We can afford to keep our promises, because every single aspect of our business is reliable from the initial advice of our seasoned Sales Staff to the non-stop performance of our coast-to-coast infrastructure.
Though we keep our client list confidential, you'd be surprised to learn how many major industry players have turned to Superb for the promises we keep by reading our success stories.
You may ask, why does all this matter so much to us? It's because our founder, Haralds Jass, was seeking just this type of service back in the mid-90s and couldn't find what it anywhere. . So he created it! And the vision that he had in mind has been the driving force behind Superb ever since.
About Us
Superb Internet is a world-class web hosting company founded in 1996 offering customers the best in managed hosting, server colocation services, dedicated servers, virtual web hosting, virtual private servers (VPS), and domain registration.

We provide industry leading technology and the latest innovative ideas to suit your company's needs for hosting, data storage, E-commerce, media hosting, Software-as-a-Service (SaaS), and many other web solutions.

Superb Internet is an award-winning Hosting Company, ranked one of the best in the world, and we take pride in our highest quality of service and delivery. However, our truest asset is the loyalty of our customers.
The Superb Standard®: Your Service Never Stops
We offer superior, award-winning service 24 x 7 x 365 from our
SSAE 16 Audited
data centers,
ISO 9001:2008
Certified & Registered and
ITIL
certified staff in McLean, Virginia; Springfield, Virginia; Tukwila, Washington; and our Honolulu, Hawai'i headquarters. Providing a complete range of managed web hosting services, from virtual hosting to high-volume, mission-critical dedicated service solutions, we are able to serve customers in over 150 countries throughout the world. How? Through our proprietary coast-to-coast network infrastructure.
Three state-of-the-art, fully redundant, fault-tolerant data centers for 100% uptime
Superb.net is customer-focused and network-driven. Our Network Operations Centers are staffed with dedicated technicians and our professional System Administrators are constantly monitoring server and network status to ensure 100% server uptime, guaranteed.

We offer lightning fast connectivity facilitated by multiple redundant connections to several backbone providers through OC3 and GigE connections. Our network infrastructure, which we own, was designed with no single point of failure. With fully redundant cooling and power systems, disaster management plans, and careful proactive monitoring, we can prevent almost any cause for downtime.

But should an issue arise, we make sure any concerns are addressed immediately within 24-hours, guaranteed. In fact, most support queries are answered within 24 minutes!
Innovative plans and latest hosting equipment for shared hosting and dedicated servers
Despite being one of the largest providers in the world, our customers always receive the best personalized attention and care usually associated with smaller companies. We conduct regular customer surveys and our services and prices reflect customer input.

With the recent launch of SuperbCare® on Twitter, we have yet another avenue of two-way communication for customer feedback. For more information, check out our newsletter, blog, social networking channels and more.
Meet Our Management Team
Our management team is a unique blend of seasoned Internet professionals and world-class technology managers, who are rapidly transforming the Internet and raising the bar for quality in web hosting services. Besides pursuing excellence in their chosen professions, each person displays a range of unusual and diverse talents in their avocations, which actually dispel the "hemisphere mythology" of right- or left-brain dominance. Our Managers are both logical and creative, gifted both intellectually and physically - with the same intriguing range of interests manifested by all Superb staff members. From composing original music to practicing esoteric martial arts, we are a fascinating group by any measure.
Haralds Jass - President & CEO

Always Putting Customers First
Haralds is a perfectionist and an innovator, who counts on the strength of his subconscious to develop Superb's leading technologies. The first thing he does in the morning, and the last at night, is to check his e-mail account with Superb. He even keeps a notepad and pen by the bedside, and creates his To-Do list as he descends from full consciousness to sleep, taking advantage of every type of brain wave in the several hours he allows himself to fall asleep.
Haralds's greatest interest is in how to make things work better and more efficiently. He looks at hosting technologies as tools and methods to achieve his desired goal: providing the best customer experience through optimal operational efficiency.
Prior to founding Superb Internet in 1996, Haralds created and operated an online interactive entertainment venture named Superb Entertainment (1994 - 1996). In an interesting twist of fate, it was the lack of hosting infrastructure for this effort that led to the launch of Superb Internet.
A native of Latvia, Haralds has studied Economics and European Intellectual History at the University of British Columbia. He enjoys traveling and outdoors activities, but issues related to the hosting industry are never far from his mind.
Ken Nunes - Chief Operations Officer

Providing Superb Quality
Since 1999, Ken Nunes has played an instrumental role in providing superior service to Superb's clientele. In his current highly esteemed role, Ken is responsible for overseeing managed dedicated services, various aspects of operations, sales, and ensuring a consistently high quality of service throughout.
From 1996 to 1999, Ken was a senior Service Manager with Rogers Communications. While at Rogers, he filled a number of service roles integral to the company's customer service success. Prior to joining RCI, Ken held management roles with the TDL Group and PepsiCo.
Ken graduated in 1987 from Simon Fraser University with a Bachelor of Commerce degree. He continues to further his understanding of the Internet through ongoing seminars and classes offered by both private and public education facilities. Ken is active with several local business groups and enjoys teaching others about the Internet and how it can help create additional revenue streams. And he is actually a serious hockey player for "The Mayhem" after-hours.
Jason Wong - Vice President of Human Resources

Creating Harmony for Superb Staff
Jason Wong joined the Superb Internet team in 2008, due to the rapidly increasing Human Resources needs in our fast-growing global company.
Jason's proven solid management skills take root in his previous positions in real estate, finance, banking, computing and human resource sectors. Among other things, Jason has managed HR departments and web development projects, as well as handled countless large real estate transactions.
"Be quiet and listen" is Jason's motto towards people management. Jason believes that a genuine open door policy is the best tool to achieve harmony amongst staff.
Jason completed his BA major in Economics and Liberal Arts at Simon Fraser University and later obtained his MBA with concentrations in Human Resource Management and Negotiation at Heriot-Watt University. A few of his secret talents include learning to play piano in less than one month of intensive study (he's now working on the Moonlight Sonata), and studying interior design in Italy and Canada to prepare for the massive renovation of a classic Tudor house - and of course coming in on time and within budget!
Our Corporate Responsibility
Since 1996, Superb's essential corporate values have included taking the long-range view and planning intensely for the future. As a consequence many of our choices have been influenced by the current climate change crisis.

Energy awareness is not new at our Network Operations Centers. We believe in conservation not just because we've always been a considerate corporate citizen, but because efficient energy management allows us to pass cost savings on to our customers.

What is the cleanest unit of energy of all? The unit you never use. Instead of retrofitting solutions to make up for wasted energy, we believe that ultimately the most effective way to manage the energy crisis is to limit our consumption of fossil fuels altogether, using the best energy-saving designs for our hardware. We pay more for quality up-front, certainly, but the energy savings are worth it.
Taking Extra Steps for Conservation
Along with most environmentally responsible offices, we take basic measures such as purchasing recycled products where possible, cutting back on print-outs, using office plants to filter the air and absorb pollutants, and donating out-of-date equipment to charities instead of overloading landfills. Staff are encouraged to commute to work via bus, bicycle, and "foot power" through the use of pre-tax commute benefits. Where possible individuals telecommute, and we regularly teleconference among our multiple locations.

Even simple steps like using Adobe .pdf files and specially designed software solutions to limit reliance on traditional paper-based channels can help.

We encourage staff to limit throw-away cups by re-using insulated coffee mugs for that essential pick-me-up. The astonishing truth: if every Starbucks customer carried a re-usable coffee thermos instead of pressed paper or styrofoam, we could prevent the release of 2,040,061,237 pounds (that's two billion, yes) of carbon dioxide every year, according to Stanford University.
Promoting Energy Efficiency at our Data Centers
As a matter of course, servers and equipment at all our data centers are kept turned off unless/until they are needed. Potential air escape routes and leaks are completely sealed off, so the carefully chilled internal air consumes less air-conditioning run-time and electricity.

Our technicians actually go as far as equalizing the data center temperature around the servers and then raising it slightly around the AC units, which results in greater cooling efficiency (and reduced energy consumption). Plus, our AC units are the latest innovative technology, only recently available in the U.S. They exceed even the stringent efficiency requirements of Seattle, "The Emerald City," definitely a leading "green" city!
Innovative Technology Revolution in Data Center Design
The new CyberAiR® floor-mounted precision air conditioners containing Electronically Commutated - EC - plug fans are a generational leap ahead of traditional centrifugal blowers. We've contracted with Stulz-ATS, the first CRAC/CRAH (Computer Room Air Conditioner/Computer Room Air Handler) manufacturer in the United States to bring EC Fan technology to the data center, to obtain precision temperature and humidity control for our mission-critical centers.

Starting with the EC plug fan, we get low-noise, low-vibration, dust- and maintenance-free operation, for an immediate 30% energy savings. The fail-safe feature detects a single fan failure, automatically increasing the rotational speed of all the rest of the fans to make up for lost airflow. Two separate advanced controls adjust the proportional chilled water control valve, as well as the tunable control algorithms for the fans.

And since redundancy is so essential, many data centers include "stand-by" units in case of emergency. Because our CRAHs employ the efficient EC fans - and operate with a new, unique V-frame coil designed to optimize air flow, minimize pressure drop, and improve total efficiency by eliminating water carry-over into the air stream - we can actually run our stand-by units, reduce fan speed on all units, achieve the desired cooling capacity, and use less energy. We achieve the highest cooling capacity available, while at the same time using the smallest footprint!
Superb Bird of Paradise at the Honolulu Zoo
In addition to conserving the natural resources we use every day, we are committed to protecting members of the wonderfully diverse animal kingdom and helping to educate the public about the Earth's wildlife. We felt there was no more fitting way to do so than to adopt the Superb Bird of Paradise at the Honolulu Zoo, near our company headquarters.
In adopting the aptly-named bird, we support the Zoo's efforts to propagate the unique species and give visitors a first-hand learning experience about these exotic animals.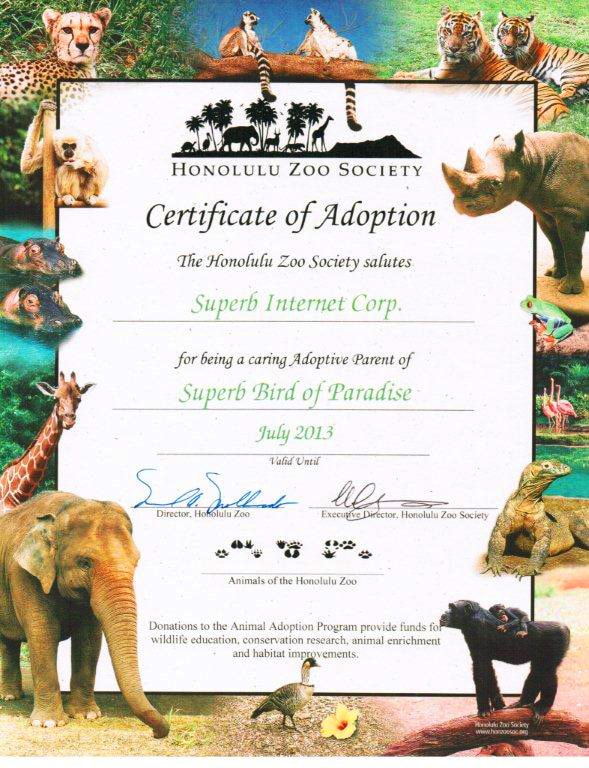 Efficient energy management
---

We believe in conservation not just because we've always been a considerate corporate citizen, but because efficient energy management allows us to pass cost savings on to our customers.
---
Environmentally responsible offices

We take basic measures such as purchasing recycled products, cutting back on print-outs, using office plants to filter the air and absorb pollutants, and donating out-of-date equipment to charities.
---
Innovative Technology Revolution

Servers and equipment at all our data centers are kept turned off unless/until they are needed. Potential air escape routes and leaks are completely sealed off. Our AC units are the latest innovative technology.
---
Superb Bird of Paradise
We are fully committed to being involved in protecting the environment at the local level. We believe there is no more fitting opportunity to do this than to adopt a Superb Bird of Paradise at the Honolulu Zoo, where we are headquartered.
The vibrantly-plumed Superb Bird of Paradise was one of the featured species in the Discovery Channel's ground-breaking Planet Earth series, displaying his elaborate and inimitable mating dance. The Honolulu Zoo is one of only five American sites where the magnificent Birds of Paradise are exhibited.
By supporting the Zoo and specifically through our sponsorship of the Superb Bird of Paradise, we hope to truly live the principles of environmental stewardship, education, and advocacy we have instituted since we were founded in 1996.
Here's How it All Began...
Back in 1994, Haralds Jass was just a 14 year-old eighth grade high school student. He and a group of like-minded online developers decided to take advantage of the emerging Internet's new possibilities by inventing an immersive and interactive online computer game called "Woodlands." They even composed original music for the game's soundtrack just as MP3 was being invented.

Their project was proceeding so well that a publisher expressed interest in bringing the game to market. So Haralds and his group founded the company Superb Entertainment. Unfortunately, development kept being plagued by technical difficulties, as they were pushing the limits of current web capabilities with their innovations. Commercial web hosting itself was still quite new, and their shared hosting provider was unable to resolve the sporadic power outages, unexpected crashes and other performance problems that not only hampered development, but made the launch of such a product an uncertain venture.

So with regrets the game was shelved for the time being. Instead of giving up, Haralds saw this as an opportunity to research the industry and see if he could find demand for a reliable web hosting operation that was well managed and could meet performance expectations. As he puts it, he saw the need for a company that was "more responsive, more reliable, and more customer-centric." Despite his young age, this was the seed that eventually germinated to grow into one of the oldest and most respected web hosting companies in the world.
The Formative Years
December 1996

In the summer of 1996, Haralds stepped up to the next level. Having located a number of online contacts who had similar problems with their hosting providers, he began taking pre-orders for his new shared hosting service. His family dentist loaned him six hundred dollars to buy a single Sun Solaris server at a colocated facility in Maryland, with Haralds' promise that the entire loan would be repaid within two weeks of the launch.

True to his word it was; Superb Internet Corporation was actually profitable within ten days of launch! The loan was repaid and from that day on, the company was self-funded and self-financed, operating on positive cashflow from its initial clients and others who soon signed up, attracted by word of mouth. By the end of the year, the company owned ten servers and had to hire a contractor to help with the workload.
Growing the Industry
October 1999

By the summer of 1999, Haralds was in his first year of University studies. His company, Superb Internet, already had over four hundred servers hosting ten thousand websites. The company now employed ten remote employees, and all of the major reputable agencies consistently rated them as the #1 web hosting provider. In particular, Superb Internet was becoming known for its quality of service and reseller services, as well as an important internet "first": name-based virtual hosting, which brought down costs and helped pave the way for even individuals to have their own websites. Superb also introduced customer-controlled virtual hosting with unlimited third-level domains, and a number of other innovations that not only helped the company grow, but drove the industry as well.
First Data Center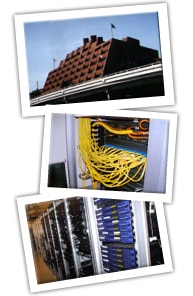 April 2001
Superb's potential for even greater growth was becoming clear. Haralds decided to postpone returning to school so that he could devote his full time to managing his company. By this time, Superb had opened a physical office in Vancouver, Canada, but was starting to outgrow the colocation facility in Annapolis, MD - where it was already using more than fifty percent of the facility's space. With dwindling room, the company had to make a move in order to maintain its ability to grow. Superb made an offer to buy the data center outright, as this seemed to be a logical solution, but the offer was refused.
Management began the search for a new facility they could purchase outright in an area that would allow for future growth. The team found a site that met their needs in the Georgetown neighborhood of Washington, DC, one of the best connected areas in the entire U.S. for a web hosting company.
Branching Out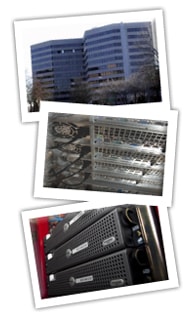 2002 to the Present
In early 2002, Superb Internet grew again - with the opening of DCA2, its second data center, located in McLean (Tyson's Corner), VA. At the same time, a coast-to-coast IP backbone network was added, using the services of HopOne Internet Corporation. This vital addition ensured that Superb's customers were connected to the fastest and most reliable network available, and greatly helped its push for further growth.
The opening of DCA2 and new partnership with HopOne doubled the available capacity for additional servers and led to increased network quality. These moves also created opportunities for dedicated server colocation, which helped diversify the company's offerings and reach new clients. The second DC facility paved the way for Superb Internet's aggressive plans for expansion to meet growing demands, and positioned Superb Internet to continue its reputation as one of the prominent leaders of the web hosting industry.
Seattle Data Center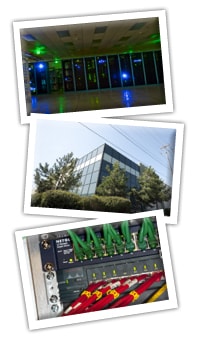 June 2005
Another major expansion occurred in 2005, when Superb opened a new data center on the west coast. Known as SEA2, the Seattle data center is located in one of the best connected high-tech cities in the United States, the perfect complement to the existing DCA2 Network Operations Center (NOC). The west coast location provided for multiple diverse-path fiber transport circuits from a variety of stable carriers, adding another level of redundancy to ensure premium connectivity. The launch of the SEA2 data center also opened up a number of new opportunities and provided a critical service to new and existing clients who required a west coast presence based on their user demographics. Some larger high-demand customers could now take advantage of the opportunity to have geo-load balanced servers on both the east and west coasts.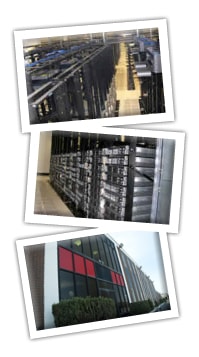 In June 2009, Superb Internet opened its latest data center, located in Springfield, VA, to accommodate its high growth. Superb made significant investments to to ensure this new facility meets Superb's standards for a fully redundant data center. As with all Superb data center locations, the Springfield data center is staffed around the clock, 24x7x365, with experienced, certified system and network engineers who specialize in maintaining IT hosting infrastructures for mission-critical data.
Ever since 1996, Superb Internet has prospered because of the loyalty and satisfaction of our clients. Since 2000, when we became completely independent and controlled our entire proprietary network, Superb has grown from just 400 servers to over 40,000 servers, hosting hundreds of thousands of unique websites that millions of internet users look at every day. As Superb Internet continues to grow, the commitment of everyone - from Haralds, our developers, customer service, and technical staff - to provide the very best to our clients will guarantee that Superb's service is always Ahead of the Rest®.
Fun Facts
B.S. - Everything before '96 is just B.S., "Before Superb". Haralds Jass starts Superb Entertainment due to the lack of quality service and support in the hosting industry.
---
Superb timeline
1996

Superb Internet Corporation founded, using exclusively Sun SPARC servers, based out of a Maryland data centre facility

Superb is first to offer name-based virtual hosting

In 12 months, the number of Internet host computers goes from 1 million to 10 million

Average cost for a gallon of gas, $1.22

1997

Superb is first to offer unlimited site, third-level domain wildcard (*) hosting

Superb offers PC servers in addition to Sun SPARC servers

Microsoft buys small stake in Apple Computer for $150,000,000

Dolly the sheep becomes the first mammal clone

The ideal American family, 'The Simpsons' becomes the longest-running primetime animated series

1998

Superb introduces low-cost Cobalt RaQ servers

Founding charter member, together with other largest and most reputable hosting companies of the day, of the Web Host Guild, an industry best-practices and customer-advocacy organization - the first of its kind in the industry

Google is founded & launches revolutionary search engine technology

Windows '98 released

Apple Computer unveils the iMac computer, in many colors

Final Seinfeld episode airs in May. Loyal viewers become more aware of good samaritan laws

1999

Y2K theories create widespread panic, which turns out to be all for nothing. The world still turns, just with a two and three zeros

Companies spend over $1,000,000,000 in online advertising; spending more online than TV, radio or print budgets

2000

Superb's first data centre, DCA1 in Georgetown, Washington, DC opened; all operations moved from third party data centre in Maryland to DCA1 in DC

24x7x365 phone support introduced

Major network upgrade to OC-12 SONET ring in the DC-VA-MD metropolitan area

badinvestment.com - The .com industry crashes

Millions of people stop trying to set the clock on their VCRs as DVD players become more affordable

2001

Superb and its CEO awarded in Web Hosting Magazine's Best of 2000 awards in its January, 2001 issue: Most Conscientious Citizen (Haralds Jass) and Best Host for Resellers (Superb Internet)

Industry's first Virtual Private Server (VPS) service introduced, known as the Superb Power Servers (SPS)

Superb Internet awarded the Best Host award in Shared category at the reputable Web Hosting Expo, the industry's largest yearly event

Superb CEO delivers address on customer surveys and customer care at Web Hosting Expo

They've got worms! The code red (WORM) virus attacks 250,000 websites on Microsoft IIS web server

Accessible knowledge becomes a collective effort; Wikipedia launches its open-source encyclopedia site, informing millions and mis-informing a few along the way

Thousands of children skip school to see the first Harry Potter movie

Apple releases the iPod, changing the music business forever

Microsoft releases Windows XP, the last properly functioning version of the Windows operating system

2002

Superb CEO awarded "Man of Action" Award by the Web Hosting Magazine, the industry's largest and most reputable magazine

According to the Web Host Magazine Superb Internet's determination to rely on a rock solid, long-term business plan and a serious commitment to our customers has helped us to successfully "Survive The Hosting Glut"

Our second data center(DCA2), was opened in Tyson's Corner, McLean, Virginia

Low-cost SuperbServers.net launched

The Mars Odyssey finds signs of water on the planet

2003

Our coast-to-coast IP backbone born: network extended to Chicago and California

2004

Launched the new interactive ordering system, where customers can custom-build and order online their Linux, FreeBSD & Windows managed dedicated server - one of the first in the industry

We are selected as the #1 Shared Web Hosting Provider and the Best Performing Company in the Web Host Directory

CoveSoft customer base and servers acquired, moved from its Maryland facility to our DCA2 data centre in McLean, VA

2005

SEA2, our third data centre, in Seattle, WA opened

2006

DCA1 data centre consolidated into DCA2 data centre

2009

DCA3, our fourth data centre, in Springfield, VA opened

In order to accommodate our continued growth and need for top talent, headquarters office moved from Vancouver, BC to Honolulu, HI

2010

Introduced GridIron, a one-of-a-kind fully redundant and infinitely scalable grid-computing-based shared hosting platform, the result of 100s of man years of development

Massive access layer Cisco network upgrade performed at all three data centres (all access switches replaced, increasing throughput capacity for customers many fold)

Network FWSM service, at the distribution layer, introduced at all data centres, thus enabling every customer to easily enable network firewall & DDoS protection service on the fly

2011

Major core Cisco network upgrade performed, across all data centers and PoPs (all core routers replaced), in order to upgrade each router to 200-320Gb/s throughput capacity

IPv6 introduced at the Cisco network core layer

2012

Seattle area (SEA1, SEA2) network capacity upgrade: network capacity increased 10-fold

Stay tuned. We're busy making history...