High-Traffic Dedicated Servers to the rescue!
If you are operating some highly popular sites with millions of visitors a day (or an hour), an images-centric and/or a video streaming site, or anything else that uses high volumes of traffic, it is important to stay within a budget and avoid surprise overage charges, without compromising on the quality – and speed – of your end-user's experience.
At Superb Internet, we've been in this business for more than 20 years (since 1996). We operate three of our own data centers and a coast-to-coast IP backbone, with more than 500 peering sessions, whereby we reach the majority of the Internet directly and intermediary network free. When it comes to performance – the lowest latency and the highest throughput - we guarantee that we can't be beat. (No wonder that real-time financial trading, VoIP, game server, and other such performance-sensitive clients insist on our hopone.net IP network.)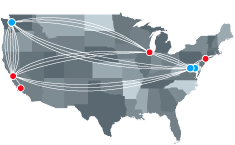 We've taken out the worry from high-traffic site hosting. Choose either 100 Mb/s, 250 Mb/s, 500 Mb/s or 1000 Mb/s (1 Gb/s) dedicated, full capacity guaranteed port – at massive savings, due to the breadth, interconnectivity and scope of our IP backbone – and never worry about any overage charges, or your site(s) being slow ever again. The bandwidth is always completely unmetered and unlimited. Need more capacity? You can upgrade your port speed practically instantly any time, and there's surprisingly affordable 10 Gb/s options available as well.
Not quite there yet? No worries! Check out our unlimited-traffic shared hosting options, perfect for a smaller site that is just getting started or still aspiring to get to the major leagues. Getting started with us has never been easier.
Choose – and customize – the server(s) that meet your needs the best:
Base Server
RAM
HD
Base Price *
100 Mb/s
Dedicated Port

250 Mb/s (GigE) Dedicated Port

500 Mb/s (GigE) Dedicated Port

1000 Mb/s (GigE) Dedicated Port

16GB

500GB

189.00

Customize

Unlimited Traffic

$189.00

Customize

Unlimited Traffic

$339.00

Customize

Unlimited Traffic

$439.00

Customize

Unlimited Traffic

$564.00

Customize

16GB

500GB

189.00

Customize

Unlimited Traffic

$189.00

Customize

Unlimited Traffic

$339.00

Customize

Unlimited Traffic

$439.00

Customize

Unlimited Traffic

$564.00

Customize

16GB

500GB

159.00

Customize

Unlimited Traffic

$159.00

Customize

Unlimited Traffic

$309.00

Customize

Unlimited Traffic

$409.00

Customize

Unlimited Traffic

$534.00

Customize

16GB

500GB

159.00

Customize

Unlimited Traffic

$159.00

Customize

Unlimited Traffic

$309.00

Customize

Unlimited Traffic

$409.00

Customize

Unlimited Traffic

$534.00

Customize

12GB

1,000GB

89.00

Customize
Customize

Unlimited Traffic

$239.00

Customize

Unlimited Traffic

$339.00

Customize

Unlimited Traffic

$464.00

Customize

12GB

1,000GB

89.00

Customize
Customize

Unlimited Traffic

$239.00

Customize

Unlimited Traffic

$339.00

Customize

Unlimited Traffic

$464.00

Customize

32GB

2,000GB

399.00

Customize

Unlimited Traffic

$399.00

Customize

Unlimited Traffic

$549.00

Customize

Unlimited Traffic

$649.00

Customize

Unlimited Traffic

$774.00

Customize

32GB

2,000GB

399.00

Customize

Unlimited Traffic

$399.00

Customize

Unlimited Traffic

$549.00

Customize

Unlimited Traffic

$649.00

Customize

Unlimited Traffic

$774.00

Customize

32GB

2,000GB

289.00

Customize

Unlimited Traffic

$289.00

Customize

Unlimited Traffic

$439.00

Customize

Unlimited Traffic

$539.00

Customize

Unlimited Traffic

$664.00

Customize

32GB

2,000GB

289.00

Customize

Unlimited Traffic

$289.00

Customize

Unlimited Traffic

$439.00

Customize

Unlimited Traffic

$539.00

Customize

Unlimited Traffic

$664.00

Customize

32GB

2,000GB

299.00

Customize

Unlimited Traffic

$299.00

Customize

Unlimited Traffic

$449.00

Customize

Unlimited Traffic

$549.00

Customize

Unlimited Traffic

$674.00

Customize

32GB

2,000GB

299.00

Customize

Unlimited Traffic

$299.00

Customize

Unlimited Traffic

$449.00

Customize

Unlimited Traffic

$549.00

Customize

Unlimited Traffic

$674.00

Customize

32GB

2,000GB

449.00

Customize

Unlimited Traffic

$449.00

Customize

Unlimited Traffic

$599.00

Customize

Unlimited Traffic

$699.00

Customize

Unlimited Traffic

$824.00

Customize

32GB

2,000GB

449.00

Customize

Unlimited Traffic

$449.00

Customize

Unlimited Traffic

$599.00

Customize

Unlimited Traffic

$699.00

Customize

Unlimited Traffic

$824.00

Customize

32GB

2,000GB

0.00

Customize
Customize

Unlimited Traffic

$150.00

Customize

Unlimited Traffic

$250.00

Customize

Unlimited Traffic

$375.00

Customize

32GB

2,000GB

499.00

Customize

Unlimited Traffic

$499.00

Customize

Unlimited Traffic

$649.00

Customize

Unlimited Traffic

$749.00

Customize

Unlimited Traffic

$874.00

Customize

32GB

2,000GB

499.00

Customize

Unlimited Traffic

$499.00

Customize

Unlimited Traffic

$649.00

Customize

Unlimited Traffic

$749.00

Customize

Unlimited Traffic

$874.00

Customize

32GB

2,000GB

649.00

Customize

Unlimited Traffic

$649.00

Customize

Unlimited Traffic

$799.00

Customize

Unlimited Traffic

$899.00

Customize

Unlimited Traffic

$1024.00

Customize

32GB

2,000GB

649.00

Customize

Unlimited Traffic

$649.00

Customize

Unlimited Traffic

$799.00

Customize

Unlimited Traffic

$899.00

Customize

Unlimited Traffic

$1024.00

Customize

32GB

2,000GB

799.00

Customize

Unlimited Traffic

$799.00

Customize

Unlimited Traffic

$949.00

Customize

Unlimited Traffic

$1049.00

Customize

Unlimited Traffic

$1174.00

Customize

32GB

2,000GB

799.00

Customize

Unlimited Traffic

$799.00

Customize

Unlimited Traffic

$949.00

Customize

Unlimited Traffic

$1049.00

Customize

Unlimited Traffic

$1174.00

Customize

32GB

2,000GB

1499.00

Customize

Unlimited Traffic

$1499.00

Customize

Unlimited Traffic

$1649.00

Customize

Unlimited Traffic

$1749.00

Customize

Unlimited Traffic

$1874.00

Customize

32GB

2,000GB

1499.00

Customize

Unlimited Traffic

$1499.00

Customize

Unlimited Traffic

$1649.00

Customize

Unlimited Traffic

$1749.00

Customize

Unlimited Traffic

$1874.00

Customize