Elevate and Accelerate Your Website(s) by Spreading Your Content Across Multiple Datacenters Globally.
Delivering content and rich media requires the least amount of latency, along with the highest speed possible to ensure that users have an exceptional experience on your website(s).
To save your visitors a vast amount of time requires that your content be located within close proximity. This way, visitors can get the information that they're seeking for quickly, which in turn, translates to better customer engagement, improved conversions, and most importantly, increased revenues.
CDN's serve a broad segment of today's Internet content, including web objects (text, graphics, and script); downloadable objects (media files, software, and documents); applications (e-commerce and portals); live or on-demand streaming media; and social networks.
With Superb Internet's large distributed system of servers located in multiple datacenters across the world, our CDN can deliver content to end-users at lighting-speed with high-availability and high-performance.
CDN Map
Our CDN has 172 "Points of Presence" in 113 cities across 43 countries that's available every day all around the globe and we're working to deploy this enhancement in more cities and countries to make sure that your content gets there faster than you can imagine.
So get started today and let us help you improve your customer engagement, sales, and revenues!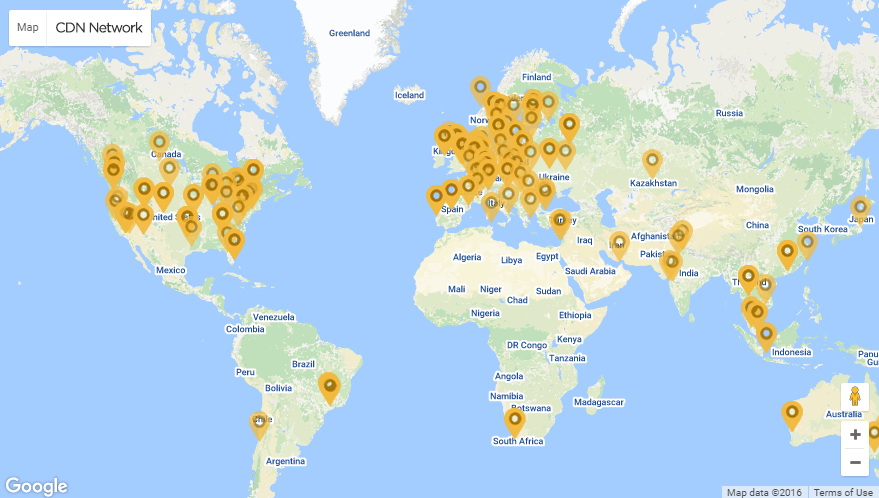 Pricing
$0.04 GB

North America

$0.07 GB

South America

$0.05 GB

Europe

$0.09 GB

Asia

$0.10 GB

Oceania

$0.35 GB

Africa

$0.10 GB

Global

TOTAL